November's Sugar Scrub, Pumpkin Spice!
Outside of family and being thankful, the thing I get most excited about in November is pumpkin pie.  When I was in middle school I was invited over to a friend's house for a Thanksgiving Meal.  I arrived excited and hungry and they said, "We ate an hour ago, but there is pumpkin pie if you want some".  I went over to the pumpkin pie and ate the whole thing in protest.  I enjoyed every minute of it.  True Story!
So, this month's seasonal scrub is Pumpkin Spice! It's accented with cinnamon, ginger, lemon peel, nutmeg, cloves, cardamom and vanilla.  It smells just like your favorite pumpkin pie. Like all of our scrubs, this scrub has a base of coconut oil and sugar to help moisturize and exfoliate your hands, feet, or your whole body.
I hope you like it as much as I do…and small confession, this was the scrub that I decided to taste…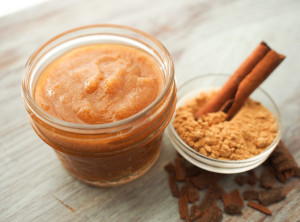 What do you think?